If you were paid outside of the app or hired directly by an Organization you met through GigSmart, you may be eligible to receive a $50 Direct Payment & Hire Bonus.
You can submit a Direct Payment and Hire confirmation request through the Get Gigs app by clicking here on your smart phone.
on your smart phone. To be eligible for the $50 Bonus, you must meet the following requirements:
Have an active GigSmart Get Gigs account
Have applied to at least one Shift Gig
Have support that clearly shows Organization information and evidence of direct payment or hire
Click here on your smart phone to submit a request in the Get Gigs app, or find it by following the directions below:
Open the Get Gigs app on your mobile phone and navigate to the home screen using the home button on the bottom left.
Scroll down to the "Direct Payments & Hires" section and tap the arrow.
Select the "Submit a Direct Payment & Hire Request" button to get started.
You must agree to the terms and conditions and choose the type of bonus request; Direct Payment or Direct Hire. You will be prompted to add the following information:
Name of Organization
Name of the person who paid or hired you
The location where you worked or were hired at
The date you were paid or hired
Additional comment(s) to support the Direct Payment or Direct Hire situation
Evidence of payment (ex. Image of Venmo payment) or hire (ex. offer letter, pay stub, or direct correspondence with the business outside of the Get Gigs app)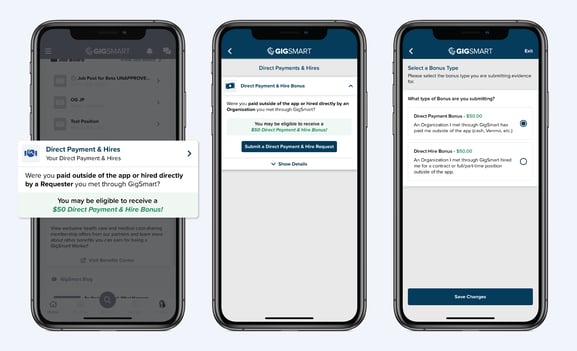 Once you have submitted your request, the Organization has up to 2 business days to approve or reject your request. You can access your pending request at any time in the app's Direct Payments & Hires screen. The pending request displays how much time the Organization has left to respond.
When the Organization responds, you will receive a notification that the status of your request has changed. If your claim is approved, the $50 bonus will be available in your Worker Wallet. If your claim is rejected, and you believe it to be an error, you will see an option to contact support in the app, where you can work with GigSmart's Customer Support Team to discuss your rejected request.
The Direct Payment and Hire Bonus is only available to workers who have been directly paid or hired on or after January 1, 2022.