Our Multi-User Access feature allows you to invite others in your organization to access your GigSmart Organization account.
Through this feature, your organization can share the responsibility of managing gigs and all in-app communications. All members of your organization can view and manage the organization account.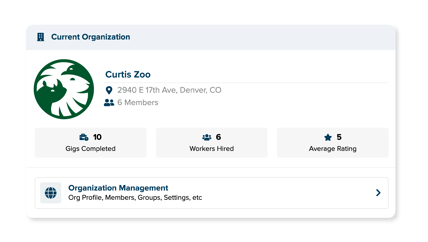 To add members to your organization:
Go to your profile and click Organization Management.
Click on the Member Accounts page where you will see an Invite Member button.
Click the button and type in the email address of the member you'd like to add to your organization account.
The invited member will receive an email prompting them to accept the invite. If the invited member does not have a Get Workers account, they will be prompted to create an account.

When creating a Shift Gig with one or more members in your organization account, the member creating the gig will default as the primary contact. If you'd like to select another member of your organization as the primary contact, select the Primary Contact dropdown on the Gig Details step and choose from a list of active members in your organization. The primary contact will receive all in-app communications from workers on the shift, but all other members will still be able to view conversations, send messages, and complete actions as needed. The primary contact can be changed and edited anytime before the shift ends.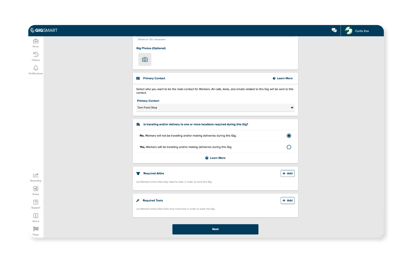 You can be a member of multiple organizations on the GigSmart platform and easily switch between organizations directly from your profile.