When you engage with a worker outside the GigSmart platform, you are responsible for paying our $500 Direct Hire fee.
By creating an account and posting on GigSmart, you agreed to our Terms of Use, which includes a Direct Hire fee.
Select the Direct Payments & Hires section in your Get Workers profile to start a Direct Hire or Direct Payment acknowledgment. Choose the option to create a Direct Payment acknowledgment if you paid a GigSmart worker outside of the app (Cash, Venmo, etc.). If you hired a worker (contract or full/part-time) that you met through the GigSmart platform, choose the option to start a Direct Hire Acknowledgement.

Starting a Direct Payment and Direct Hire Acknowledgment will take you to a screen to select which worker you have directly paid or hired. You will be prompted to add the following information:
Work location or hiring address
Date of payment or hire
Payment method to pay the Direct Payment/Hire Fee
The worker also can submit a Confirmation Request that they were paid or hired directly by you. In this case, you will receive a notification that a worker submitted a Direct Payment or Direct Hire Confirmation Request.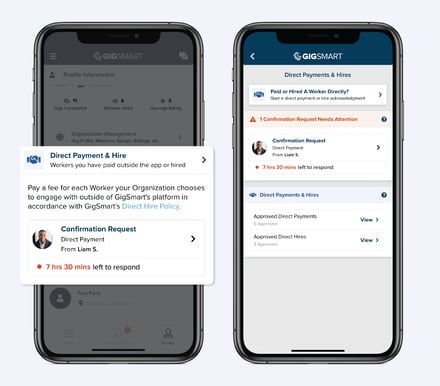 Any member of your Organization can approve or reject the worker's confirmation request. If approved, you will be charged the Direct Hire/Direct Payment fee of $500. If rejected, you will be required to add a comment about why you rejected the request.
Please note, if the worker submitted the Confirmation Request before 5 PM, you have until 5 PM the following business day to respond. If the worker submitted the Confirmation Request after 5 PM, you have until 5 PM on the second following business day to respond to the request. The request is automatically rejected if you do not respond to the request within the required timeframe.
Keep in mind that when hiring GigSmart workers outside of the GigSmart platform they do not come with all the benefits of GigSmart including our:
One Hour Guarantee
Occupational Accident Insurance
Hired, Non-Owned Auto Insurance
Background checks, including continuous checks
Timesheet dispute resolution
Scheduling support
GigSmart's customer service team
Additionally, in accordance with our Direct Hire policy, in the event your organization does not notify GigSmart within fifteen (15) days that it has Hired a GigSmart worker, you will be obligated to immediately pay to GigSmart $2,500 for each such GigSmart worker your organization has Hired. This also may result in your account being unapproved until all such fees have been paid.
The Direct Payment and Hire Bonus is only available to workers who have been directly paid or hired on or after January 1, 2022.